White , Gold , Red , Blue
4 Colour available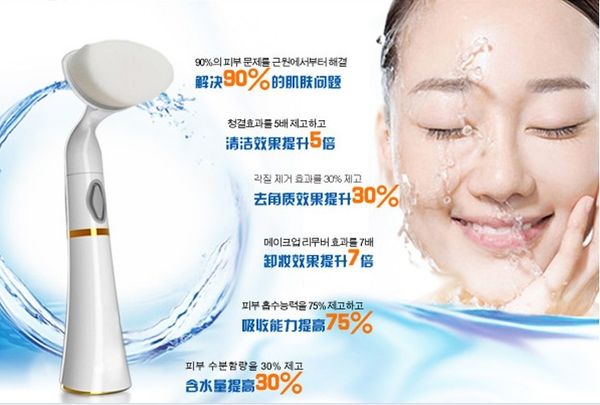 ♦ Contains 150000 micro fine brushes
♦ 10000 sonic vibrations per minute to maximize facial cleansing
♦ Water proof
♦ Removes make-up better than manual cleansing
♦ Leaves skin feeling and looking smoother & softer
♦ Minimizes the appearance of visible pores
♦ Removes impurities that keep creams and serums from working their best
♦ Reduces oily areas, dry skin, patches and blemishes
♦ Portable for home or travel use
Guaranteed Functions & Result of Save more Pobling Cleanser
♦ No more using hand for cleansing face! PoBling Removes makeup and oily sebum faster and hygiene clean for brightening skin
♦ Leaves skin feeling and looking smoother
♦ Removes impurities that keep creams and serums from working their best
♦ Reduces oily areas, dry skin patches and blemishes
♦ It removes excess oil, dirt, blackheads and whiteheads yet gentle on the skin, plus it minimises the appearance of large pores and helps to block dirt from entering the skin
♦ Simply apply it on cleansed face and let the gadget work its magic to reveal smoother, finer looking visage
♦ Portable for home or travel use whenever you need it !Equipped with micro-fine brush. A frequency of flaunting 300 sonic vibrations/second! Deeply and thoroughly cleans pores on skin! Removes make-up residue and excess oil that clogs pores! Get rid of black heads and acne! Stay refreshed and look radiant!
How to use:
1. Wet your skin and pobling with enough warm water and apply some foaming cleanser. Turn the pobling on and massage with brush head gently.
2. Rinse your skin with warm water
3. After using pobling, please rinse the soap off enough under running water, drain off and keep it in the holder.
4. When using again, rince it out again clearly under running water.
5. We recommend to use twice or three times a week.